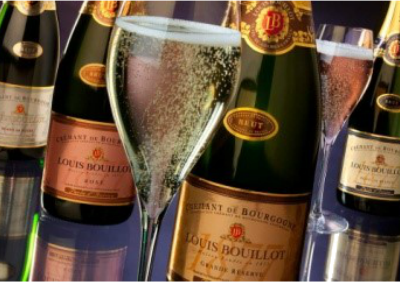 Louis Bouillot
This winery is settled in Bourgogne in France. It covers a particularly large territory that stretches from the north of Burgundy to the south, covering the Chablis region, the Châtillonnais, the Côte de Nuits and the Côte de Beaune, the Côte Chalonnaise, the Côte Mâconnaise, and into the Beaujolais. Such diversity means that a wide range of different base wines can be created that reflect their terroir. This allows for the creation of subtle blends to achieve the perfect balance for each cuvée and to bring out the qualities of each varietal.
What they are famous for; of course, for their sparkling wines. They know how to make them and they do it very well. If you search for their products soon you will realize that all of the sparkling wines are awarded for several times.
Fine quality, lovely taste and bubbles combine with reasonably price makes them irresistible.
Available in Cyprus
Louis Boillot – Perle d' Aurore Rose
Louis Boillot – Perle de Vigne Grande Reserve
Louis Boillot – Perle Noir Blanc de Noir